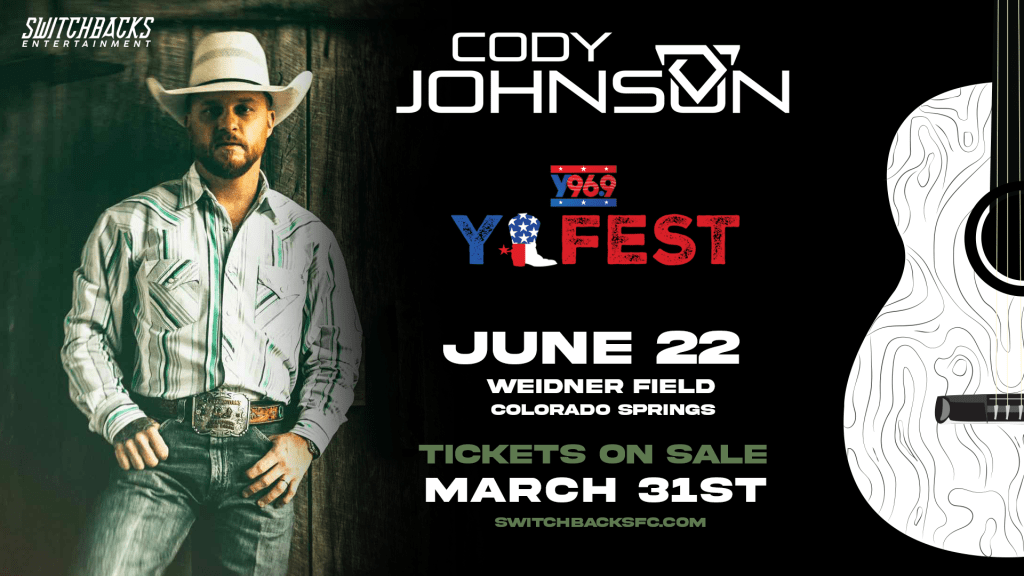 COLORADO SPRINGS, Colo. (Mar. 23, 2023) – Switchbacks Entertainment and Y96.9 announced today Cody Johnson would be headlining Weidner Field in concert for the inaugural Y-Fest on June 22nd.
"It is great to partner with Switchbacks Entertainment to bring premier Country talent to Colorado Springs and Weidner Field for Y-Fest. We plan on making this a must-see yearly event for Colorado Springs," said JoJo Turnbeaugh, Region Senior Vice President of Programming at the iHeartMedia Multiplatform Group-Rockies Region.
Cody Johnson joins Switchbacks Entertainment's Summer Concert Series that also features fellow headliners AJR and Five Finger Death Punch. Switchbacks Entertainment and Y96.9 are excited to bring major artists like Cody Johnson in concert to Colorado Springs. Special guest artists will be announced at a later date.
Concerts at Weidner Field are a unique experience that feature stadium seating and on field standing room, while still maintaining an intimate feel for both artists and concert goers alike, all while taking in the beautiful scenery of downtown Colorado Springs and Pikes Peak in the open air venue.
Tickets go on sale next Friday, March 31st and you can find those plus our full lineup of 2023 events and matches at switchbacksfc.com/schedule.
About Cody Johnson:
Since releasing his first album in 2009, Cody Johnson has had nearly 4.5 billion streams globally and 15 career RIAA certifications to date. In 2022 alone, Johnson received two Country Music Television Awards with a total of four CMT nominations. He won MusicRow's Song of the Year for his single "Til You Can't," while also being the most nominated country artist at the American Music Awards with three nominations. In 2020 and 2021 Johnson was a nominee for ACM's New Male Artist of the Year. Johnson sold out 41 dates on his 2022 headline tour, with dates already selling out in 2023. His new album Human, The Double Album, is the third most pre-added album on Apple Music of all time in the country music genre.
About Y-Fest:
Y-Fest is a new music fest headed by Y96.9 and iHeart Media that aims to bring country music to Colorado Springs and the surrounding regions. The Cody Johnson concert at Weidner Field this summer will be the inaugural kickoff of what will become a fun yearly fest for country music lovers.
About Switchbacks Entertainment:
Founded in 2021, Switchbacks Entertainment is the entertainment and events branch of Switchbacks FC, and is responsible for all events held in Weidner Field. Production and promotion are all handled in house, and events offered include professional, amateur, and Olympic sports, as well as graduations, weddings, concerts and private events. For more information, visit www.weidnerfield.com.