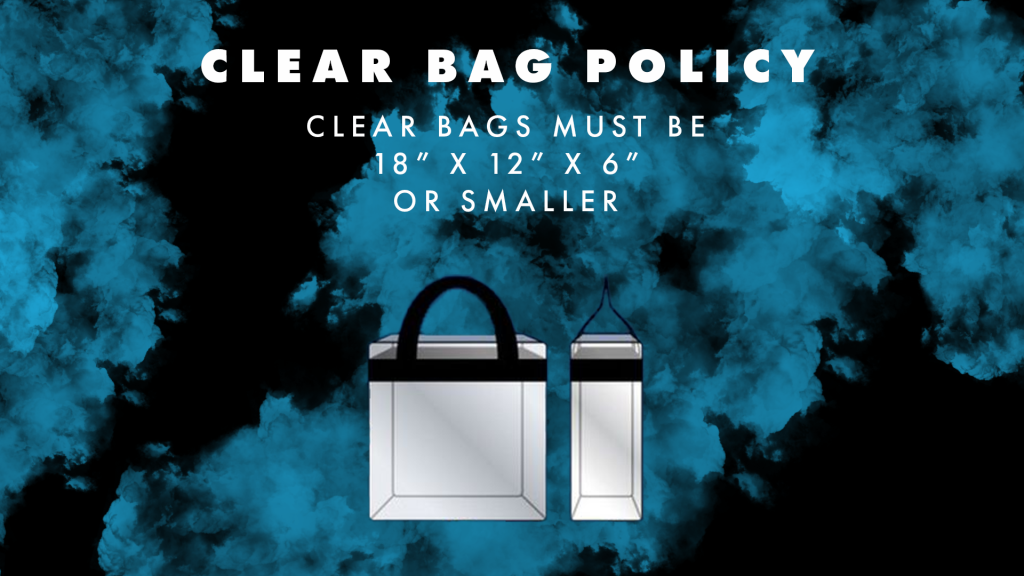 Prohibited Items and Clear Bag Policy
Below is the list of prohibited items at Weidner Field. Along with this we would like to go over our new clear bag policy. The only bags allowed inside Weidner Field will be clear bags that security can visually check without touching your belongings. Bags must be no larger than 18″ x 12″ x 6″ OR a one-gallon re-sealable bag is allowed. In addition, a small clutch bag or purse no larger than 6.5″x4.5″ will be permitted.
Each ticket holder, including children, may carry an approved clear bag and a clutch purse.
There are no provisions to check items at the gates. Fans will be asked to either take prohibited items back to their car or to the lockers where a fee applies, or dispose of prohibited items at the gate. The Colorado Springs Switchbacks FC and the stadium are not responsible for items left behind, damaged, stolen, or lost.
Diapers and wipes may be carried in an approved clear bag (diaper bags will not be permitted).
All bags are subject to inspection – no exceptions.
Prohibited Items:
– Bottles, cans, coolers, containers.
– Umbrellas (Small, compact umbrellas without pointed tips -24″ maximum length are allowed); ponchos preferred
– No outside food or drink is permitted (except one sealed unopened plastic water bottle no larger than 17 oz. per person)
– No alcoholic beverages, marijuana, or illegal drugs.
– Fireworks, flares, smoke bombs, or similar type items.
– Pets or animals of any kind (with the exception of service animals).
– Selfie sticks, professional camera equipment, tripods, laser pointers, etc.
– Water guns, toy/replica weapons, squirt bottles, soap bubbles, etc.
– Beach balls, Frisbees, balloons, brooms, skateboards, roller blades, skates, etc.
– Streamers
– Weapons
– No audio or video recording devices, professional cameras, or cameras with removable lenses larger than 3 inches.
– Any other item deemed inappropriate by stadium management
* Prohibited items discovered during the inspection at the stadium entrances must be returned to the owner's vehicle, placed in a locker, or discarded. The stadium will not store these devices.
No Re-Entry
As in years past, we will continue our no re-entry policy. Once a fan has exited the stadium they will not be allowed to return without the purchase of an admissions ticket. Fans will not be allowed to re-enter if they exit to grab personal items for inclement weather. We encourage all fans to bring all jackets, blankets and any other permitted items with them upon their entry to the stadium. Please see our weather policy for more details.