Welcome Supporters!
If you're here, it's because you, like us, love the Switchbacks community! Here you will find everything you need to know about what it means to be a supporter of the Switchbacks FC. Like:
Fan Code of Conduct: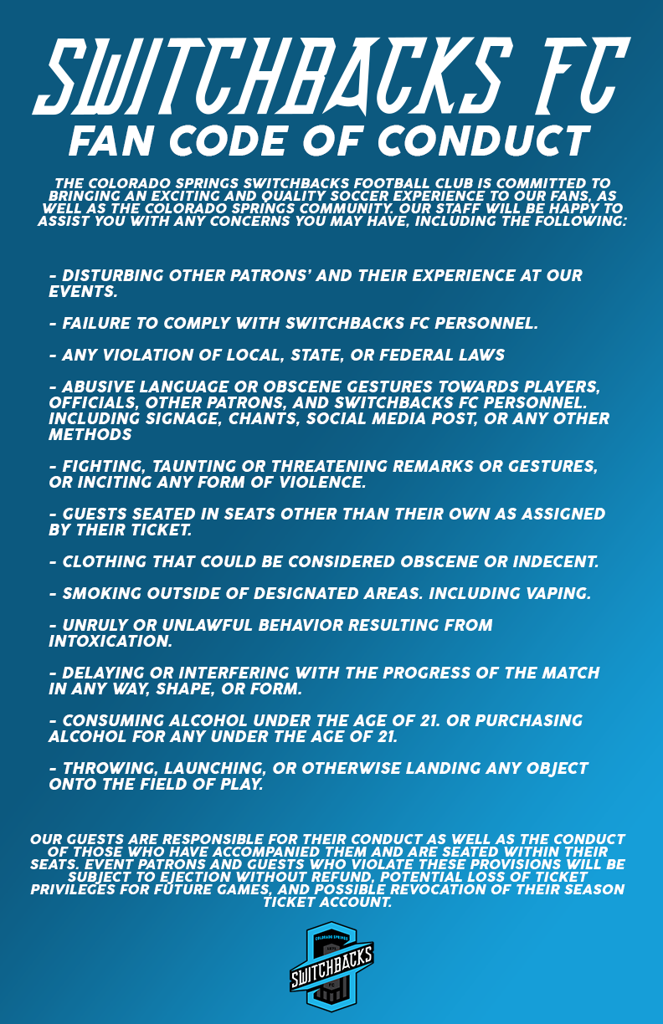 Supporters' Section:
Sections 127 & 130 are our official supporters' sections! Here are some things you should know about those seats for game day:
1. They get LOUD:
– Our supporters are the heart of our franchise, and when things go our way, they get loud. When things don't go our way, they may get louder! Be prepared for feet stomping, chanting, hollering and some passionate celebrations!
2. This is a standing only section:
– While there are no seats in this section, don't let this deter you! You'll be so busy yelling along with our Switchbacks anthem, you'll forget there's not even a seat there.
3. This area may not be suitable for young children:
– Switchbacks FC soccer matches should be a safe place for everyone, and anyone who acts in a manner that violates our fan code of conduct will be removed. With that said, our Supporters' sections will be lively, loud, and dramatic. When we score, chaos will break out in the form of smoke bombs, vigorous flag waving, and lots of yelling.
Our supporters are at the heart of our game day experience, and we want the entire Switchbacks family to feel like a supporter. With that said, it's probably best for our youngest fans to appreciate them from a different section.
Start your own Supporters Group:
Steps to being a recognized Switchbacks FC Supporters Group
Switchbacks FC hold our staff, our fans, and our community to the highest standards and expect all recognized supporter groups to do the same. To be a recognized supporter group, the following requirements must be met:
– Minimum of 50 season tickets
– Established board of elected leadership.
– Formal agreement stating the groups commitment to Switchbacks FC and the Colorado Springs Community.
– Uphold and enforce the Switchbacks FC Code of Conduct amongst its members
– Embrace all who are willing to support Switchbacks FC no matter race, national origin, religion, political view, sexual orientation or gender; violence and prejudice will never be tolerated.
– Be respectful to all other Switchbacks FC supporters, opposing fans and other, at matches, online, or anywhere else; this includes all other supporter groups in the USL
– Weekly communication with Switchback FC staff to help stay updated with the what is going on with the club, community and supporter groups.
– Provide the office with proof of all parties in the group
Benefits of being a recognized supporter group for Switchbacks FC
– Discounted group supporter tickets
– Recognized through the Switchbacks FC webpage and social media sources
– Giveback on seats sold revenue in the section
– Storage area for supporter group equipment
– Exclusive inside communication with staff and players
Want to be a part of the game day action? To join one of our supporters' groups, or to enquire about starting your own, please contact the front office at: 719-368-8480. Let's go Switchbacks!