Colorado Springs Have Big Bounce Back In Home Match Against Orange County OC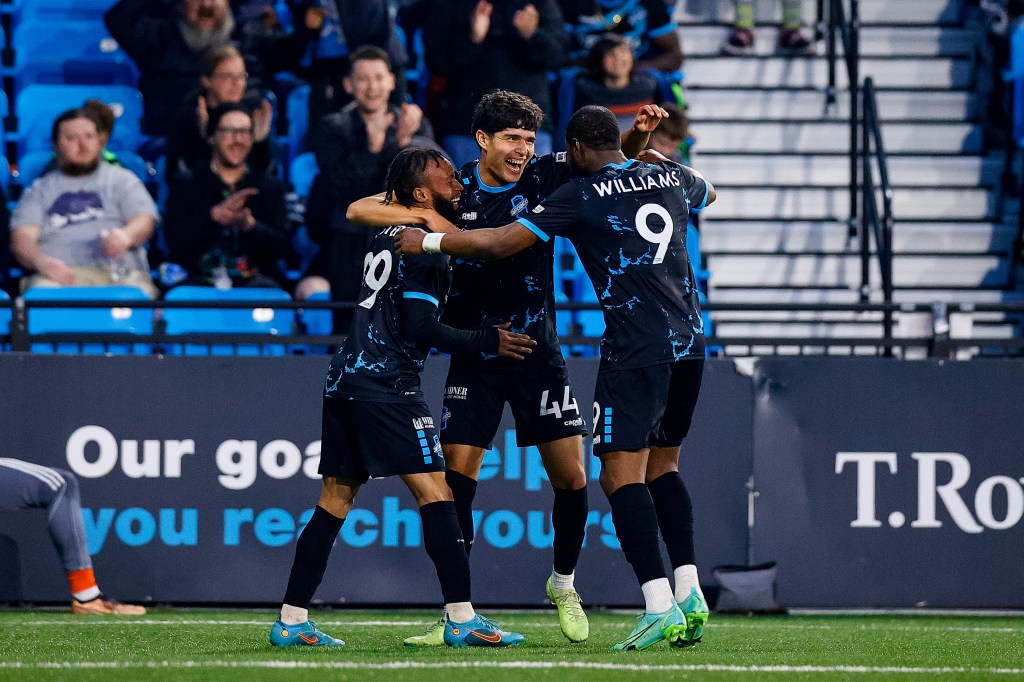 COLORADO SPRINGS, COLORADO (June 10th, 2023) – The Colorado Springs Switchbacks broke their slump in a huge way tonight as they earned four unanswered goals against Orange County SC in front of the home crowd at Weidner Field.
The team came out swinging and it was clear from the start of the match that they weren't messing around. The first goal occurred in the 28th minute, as #9 Romario Williams sent the ball to the right side of the box where it landed on the foot of #12 Drew Skundrich, who pitched it in for his second goal of the season.
The Switchbacks made six more shots in the first half, but goal #2 would come 15 minutes into the second half, when #17 Jairo Henriquez one timed it to R. Williams right in front of the net for him to dump it in, earning him a goal to match his assist.
Goal #3 was earned by Henriquez in classic soccer fashion, with a textbook penalty kick that landed center mass in the back of the net.
The final nail in the coffin for Orange County came from Pueblo native and academy player #44 Marco Rios, as he earned his first career goal. R. Williams once again came in with the assist as he high footed the ball across the box, and Rios didn't stutter step as he fluidly popped the ball past OC goalkeeper Blanchette to find the net one last time.
The Colorado Springs Switchbacks will be back at home for their third week in a row for our Father's Day match as they take on Las Vegas Lights FC on Saturday June 17th. For tickets to that match, and all others, head HERE. 
Post Match Quotes:
Head Coach Hogan: 
Overall Thoughts:
"Very good, it was a little bit different – we talked about that a bit at halftime, about what we saw, what they gave us and what we gave them, and it was a little bit different because our pressing wasn't on, but it also kept us very structured. We adjusted in the first half that we wanted Romario [Williams] and Jairo [Henriquez] to really just pick up Pederson [Daniel Pederson of OC], so they actually couldn't play through, and they did that quite well. Other than that I think we deserved it, I think the structure of it was fantastic, and the idea of going fast came out tonight, and two or three of those goals were fantastic."
On the different look of the back line, and how it worked:
"The clean sheet is obviously massive, and the two of them have been working together all week, it's quite fantastic to see in terms of the prep and training. The understanding of our structured line, there was one or two moments where we didn't drop quick enough on their left side and Drew [Skundrich] and Oskar [Agren] got split, luckily it was offsides and Christian [Herrera] was in place. Other than that it was very good in the air and on the ball."
On Herrera's saves during the last couple of weeks:
"He's stepping up, he has ambitions like all these individuals at this level. The understanding of the commanding presence of what he is and that presence of when the ball is in the air. I almost hammered him when he mistouched the ball on one or two things because that can cause errors, but if he cleans that up he's probably an MLS goalkeeper."
Romario Williams:
On getting the win after five losses:
"It feels great. It feels really great. You know the fans are always here supporting us and here behind us. We just wanted to come out tonight and have a solid team performance and I think we did that tonight from back to front. As a team we were solid defensively and we attacked as a group and we were awarded with four goals tonight and that's just a testament of all the hard work and the dedication we've put in to this despite the adversity of losing five games in a row. We know what we're capable of as a group and that talent was on full display tonight."
On getting a goal and two assists:
"It feels great. It always feels good as an attacking player to come out and impact winning and I was able to do that tonight so it certainly feels good, but the job's not finished. We have a long way to go, we have a lot of work to do. We're going to enjoy this one, but we're going to keep going."
On getting to win in front of my kids:
"It's everything. It's been awhile since my kids have been able to see me play consistently with me being overseas for a couple years. Having them here is truly a blessing and having them as a support system is just amazing and it's great to see how happy they are."
Drew Skundrich: 
On how it feels to get back to winning:
"It's a great feeling. We had a good get together as a team over the weekend and that brought us together and that brought us a lot of unity, and I think that showed on the field especially defensively. We were absolutely solid, we were working so hard for each other. Maalique [Foster] was in front of me and he made my job so easy today, if you saw him sprinting up and down I was mind blown, it was incredible; but now for him the standard is set, so he's going to have to do that consistently. But yes very happy to be back on the winning side."
On the back line's different look and filling those voids:
"It's just keeping the same principles that we always have, and its the next man up mentality, so whoever is in we know what role we need to do and it's pretty clear. And obviously when we have a week to train we can get chemistry and figure out what we need to do specifically, tweak some things if we need to so it's always consistency and being ready to play."
On his goal:
"It was awesome, because we've had struggles getting the ball in the net, especially myself, so to get that one in the back of the net in the first half was great. So I'm happy to help the team get a win tonight."
Marco Rios: 
On getting his first career goal:
"It feels amazing, it felt really good. I just love the experience man, I love the fans, as soon as it hit the back of the net I couldn't believe it I couldn't believe my eyes. I just loved every part of it."
On getting more time in games and proving himself:
"I'm just trying to give it my all, I'm trying to prove to the coaches that I earned this spot and I want to play for this team and I want to start. I just keep putting in the work."
On how he felt celebrating with the team:
"Words can't explain that feeling. Once you score a goal and you have your teammates come hug you and you have the fans, I just, unbelievable."