Colorado Springs Switchbacks Dominates Monterey Bay F.C. 4-0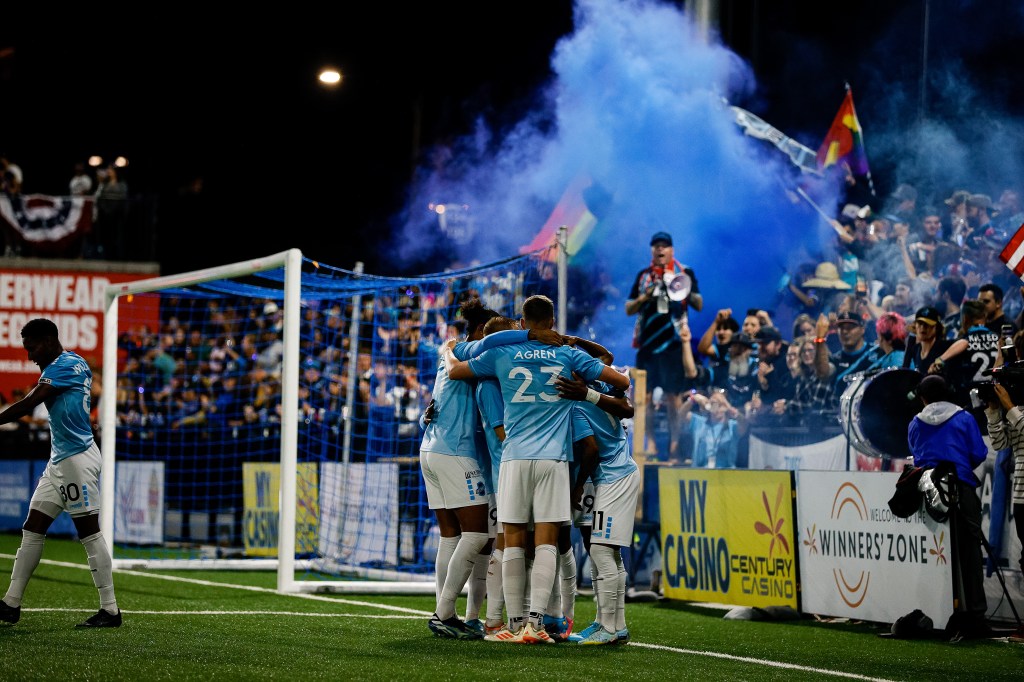 COLORADO SPRINGS, COLORADO (July 4th, 2023) – The Colorado Springs Switchbacks have been on a winning streak, dominating Monterey Bay F.C 4-0.
Within two minutes of kickoff, #27 Juan Tejada landed an epic goal with an assist from #24 Jonas Fjeldberg. With a quick pass from Fjeldberg, Tejada side kicked the ball straight in the center of the goal, completely avoiding the goalie.
Second half continued the hype for the good guys as they continued to apply the pressure with nine interceptions. With the Switchbacks controlling 56.3% possession of the ball, a quick rebound allowed #13 Steven Echevarria to tip the ball right in over the goalie.
Coming off a quick goal, the adrenaline was pumping for the players and the pressure was on to keep a clean sheet. Switchbacks had an opportunity given with a penalty kick, where #9 Romario Williams landed the soccer ball into the right corner of the net.
With a 3-0 lead up against Monterey Bay F.C, the boys were not backing down. Echevarria made his second goal by rocketing the ball from outside of the 18, hitting the crossbar making our forth goal.
The Colorado Springs Switchbacks are set for one more home game, July 14th for our Club and Country night with a scarf giveaway against San Diego. For tickets to that match, and all others, head HERE.
Post Match Quotes:
Head Coach Hogan:
Overall Thoughts:
"Coming in with the turn around, both teams made changes. We had some real threats on the bench and we saw that after we went 2-0. The understanding of what we did straight off the bat is something we have been talking about as a staff. I'm so happy from our two new signings [Jonas Fjeldberg and Juan Tejada]. It stretched them [Monterey Bay F.C.]. We can play a game and move the ball through the lines with Stevie [Echevarria], Jay [Chapman] and Speedy [Williams] controlling everybody. The transition between Stevie [Echevarria] and Jay [Chapman] was unbelievable at times, and next level."
On Steven Echevarria's last goal:
"He [Steven Echevarria] didn't even finish that run, but stuff always happens. Sometimes the keeper spills it, comes off the defenders knee and he [Steven Echevarria] is just in the right space at the right time just to tap it in. Those are massive goals in any sort of push, any sort of playoff run because you never know what goal difference is going to come in, so those tap ins are huge."
On the team's performance against Monterey Bay F.C. :
"They [Monterey Bay F.C.] have two or three MLS players that were starting and off the bench they had Christian Volesky, which are phenomenal players. They know how to play the game, they know how to put the ball in it. So how we controlled the line, our communication with the line, and the distance in mind we needed to be at, of 17 or 18 meters at times, we knew we weren't gonna press like we normally do at times. It was executed to perfection nearly. "
Christian Hererra:
On back-to-back clean sheets at home:
"Amazing, amazing honestly. I want to thank my defenders; this was probably the easiest [game] I've had all year. I am so grateful for them and just grateful for the whole group for putting together a collective effort."
On the quick goals in each half:
"It makes my life very easy. We still had forty-four minutes left to do the job, I think we scored in the first minute of the first half, and second minute in the second half. We are capable of it; I think we just need to stay committed to each other and put together this type of performance on the road."
On the atmosphere of the night:
"Amazing. During the national anthem I had tears coming into my eyes, just looking around and being like, 'Wow, this is the best atmosphere in the USL.' I can think of a lot of places, and this is by far the best"
Steven Echevarria:
On his first career brace:
"It felt great, on July 4th with a packed house, it special."
On his second goal:
"The ground was wet so Chris kept telling us to shoot, all night, because the ball could go anywhere, even skip. So that's what I did."
On what this win means:
"This is huge. We have a four-day break coming up, and this kind of sends us off with a positive note. We now leapfrog [Monterey Bay] in the table. This is huge and maybe we can take this momentum into the second half of the season and do something special."
Juan Tejada:
On the meaning behind his first goal:
"It's amazing to finally get the mark. The support of the people here, its been a week or two, but the team has received me so well. Even with the supporters and staff, I feel very lucky in a place that I can improve a lot and help the team. I am so happy we get 4-0, happy for Stevie [Echevarria] and Romario [Williams] to get on the goal sheet as well. I'll be going home happy. "
On the chemistry between him and Jonas Fjeldberg:
"Off the field we have a really good friendship. He [Jonas Fjeldberg] has been having a little bit of struggle coming off some injuries, but he just had such a great assist today. I'm happy that I put it in, and to get that connection with him here again."