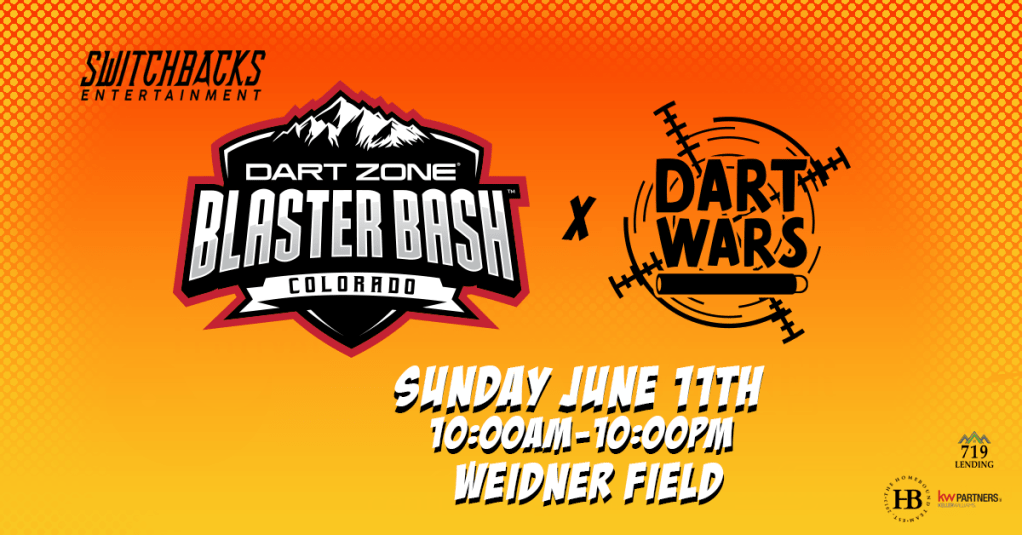 Get your blast on at Weidner Field! We've teamed up with Dart Zone and Dart Wars to bring you an event like no other! Pick your time slot to join us, and you and your family can participate in a unique outdoor nerf obstacle course that will get your heart pumping!
PLUS join us at 6 PM for an epic all out battle in our 'Zombie Attack' fight!
This event has time slots every 30 minutes, one hour, or two hours from 10AM-10 PM! Head to the ticket link below for more information on pricing!
Q: Can I bring my own nerf gun? A: Yes you can!
Basic Description of Event Play:
This event is Colorado's LARGEST outdoor foam dart tag event! You will play 5-min, action packed games with specific game modes (missions) where you will be battling the other team to win your game. If you are hit while playing, you are out and have to sit out the remainder of that one game.
GAME MODES:
TOTALY TEAM ELIMINATION:
Mission: Eliminate all the players on the other team
CAPTURE THE FLAG:
Mission: Get your team's flag back to your back wall
COMMANDER:
Mission: Eliminate the other team's commander
HOSTAGE:
Mission: Be the first team to get your hostage back to your team's back wall
KING OF THE HILL:
Mission: Have control of the hill by having your team's light on and the other team's light off
DELIVERY:
Mission: Take the flag from the center of the field to the other team's back wall
VIP:
Mission: Eliminate the other team's VIP
THE PRESIDENT:
Mission: Be the first team to get your president to the other team's back wall