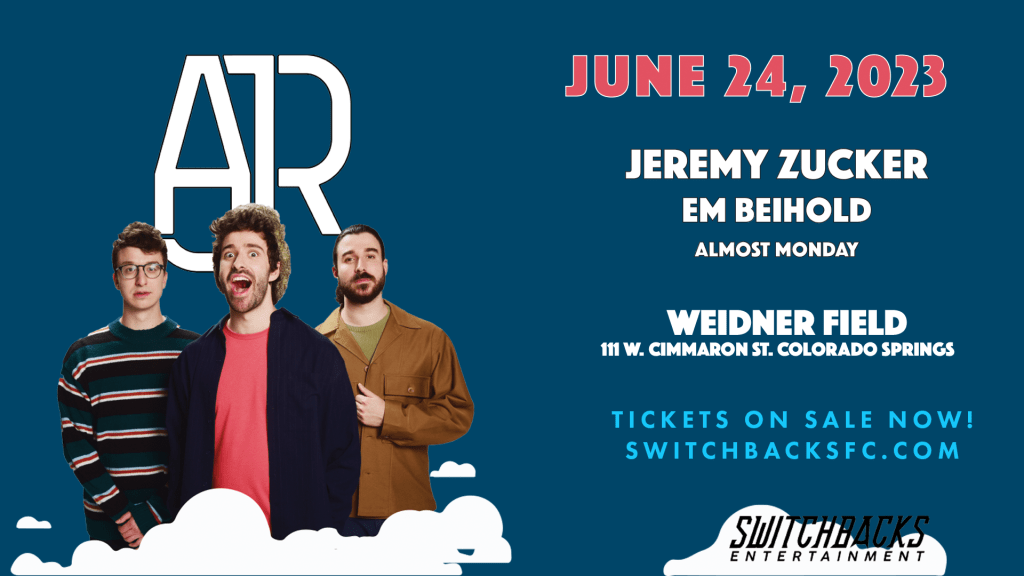 COLORADO SPRINGS, Colo. (Feb. 28, 2023) – Switchbacks Entertainment announced today AJR would be headlining Weidner Field in concert June 24th.
After a successful 2022 concert lineup that featured headline acts Sam Hunt and Jake Owen, Switchbacks Entertainment is excited to announce AJR as the first headline artist of the 2023 concert series. Supporting acts include Jeremy Zucker, a Colorado College alum, Em Beihold, and the band Almost Monday.
Concerts at Weidner Field are a unique experience that feature stadium seating and on field standing room, while still maintaining an intimate feel for both artists and concert goers alike, all while taking in the beautiful scenery of downtown Colorado Springs and Pikes Peak in the open air venue.
Tickets go on sale Friday, March 3rd HERE. You can also find a full lineup of 2023 events and matches at switchbacksfc.com/schedule.
About AJR:
Re-envisioning what pop can be in the 21 st century, AJR unassumingly emerged as a ubiquitous hit-making outlier and one of the biggest indie bands in the world. Since 2012, the multiplatinum indie pop trio—Adam [bass, vocals], Jack [vocals, guitar], and Ryan [ukulele, piano, vocals]—have generated billions of streams and earned one triple-platinum single, one double-platinum single, four platinum singles, and one platinum album. 2019's Neotheater marked their biggest first-week debut, bowing at #8 on the Billboard Top 200, #1 on the Top Alternative Albums Chart, and #1 on the Top Rock Albums Chart. Cemented as part of the modern zeitgeist, Spotify touted "Sober Up" [feat. Rivers Cuomo] among the "Best Rock Songs of the 2010s," while Apple Music included "Weak" on its "Best Alt Songs of the 2010s." Not to mention, they remain one of the "500 Most-Listened to Artists" on Spotify. On the heels of Neotheater, they dropped the 2020 platinum blockbuster "BANG!", which they performed on TODAY, The Ellen DeGeneres Show, and even at the Macy's Thanksgiving Day Parade. Now, the band open up their world like never before on their fourth full-length album, OK ORCHESTRA [S-Curve/BMG] introduced by the single "Way Less Sad."
About Switchbacks Entertainment:
Founded in 2021, Switchbacks Entertainment is the entertainment and events branch of Switchbacks FC, and is responsible for all events held in Weidner Field. Production and promotion are all handled in house, and events offered include professional, amateur, and Olympic sports, as well as graduations, weddings, concerts and private events. For more information, visit www.weidnerfield.com.
---