Specialty Items for October 29th Match
Hot Dog of the Game! Our specialty playoff hot dog this week is "The SWBKS Dogg": Green Chile Queso Blanco, Pico De Gallo and Chipotle Crema!
Our exclusive Burke Burger, designed by Coach Burke himself, is located at the White Claw Corner as well!
We have some specialty food and drink this game, including our Michee Munchie Nachos Box at 719 Munchies, and our Sea of Cyan cocktail (with a Halloween twist) available at the public Founders Club Bar! We also have a fun Halloween cocktail, the Spooky Spider Cider, available at the Modelo terrace, Pikes Peak Corner, and the public Founders Club Bar!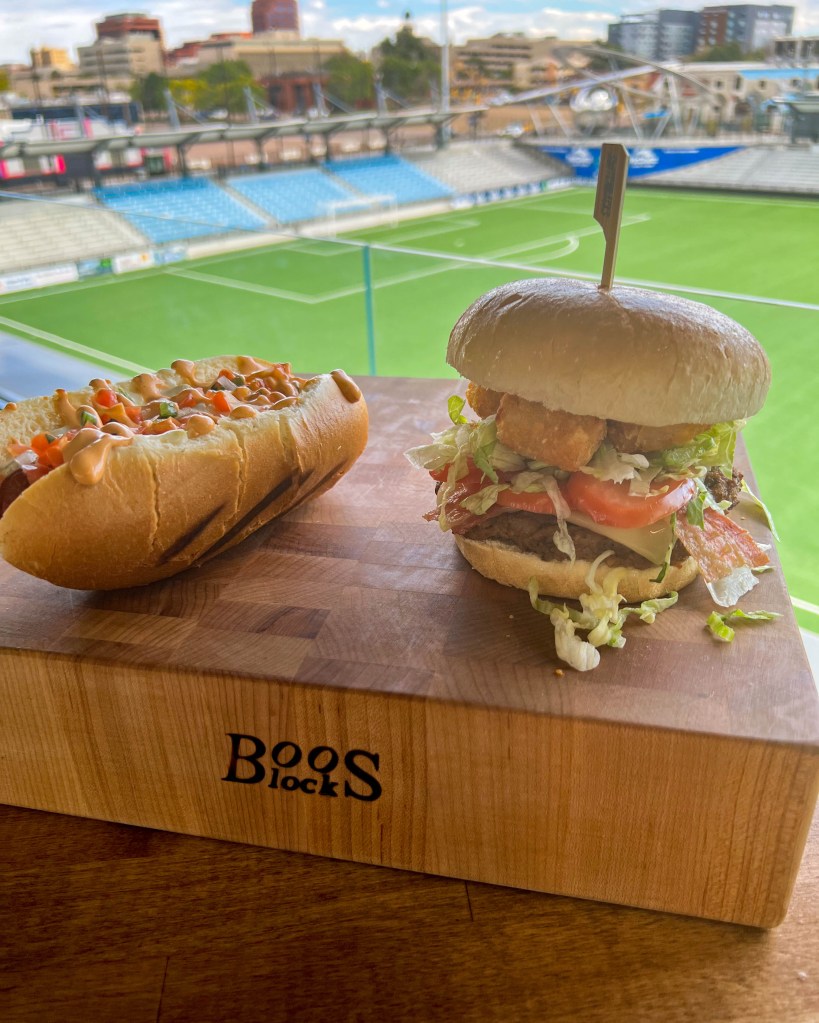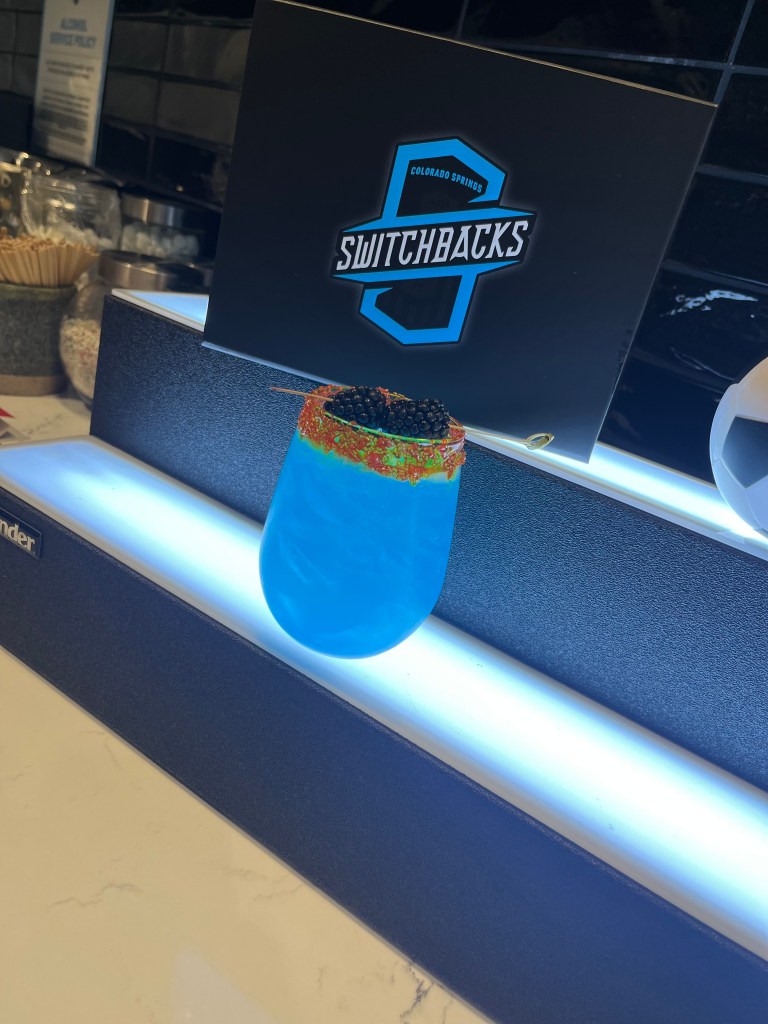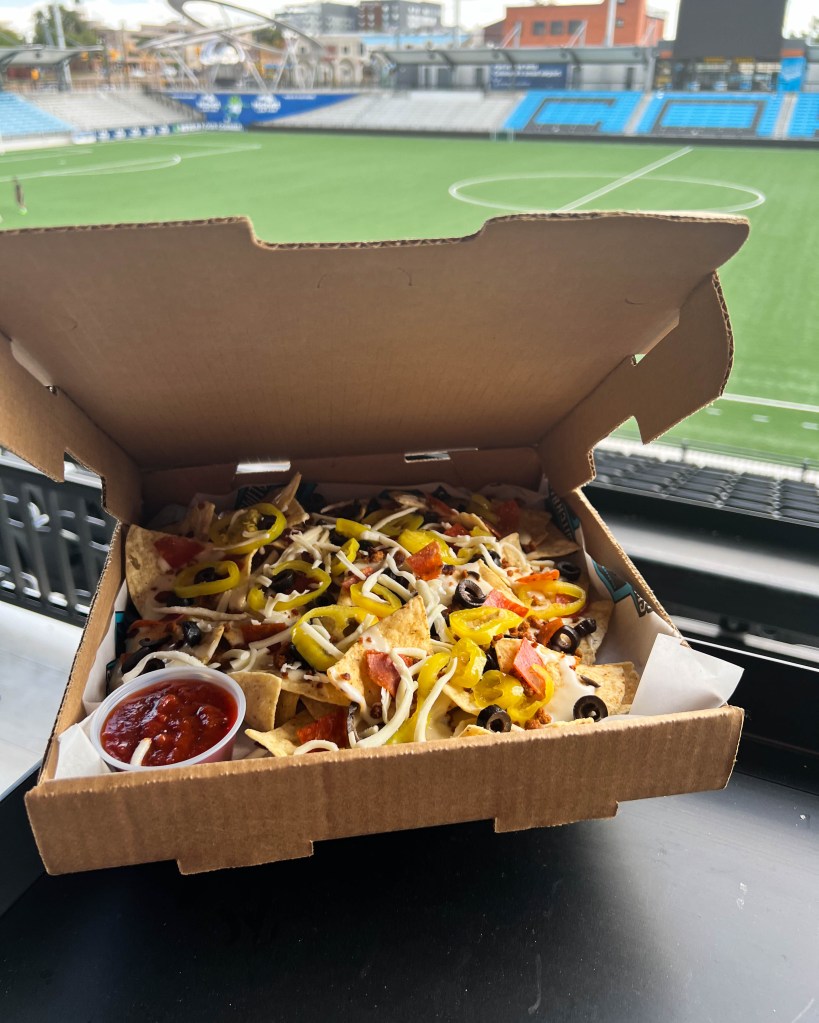 The Phil Long Menu (available to Phil Long Club ticketholders)
Chicken Provencal: Red Birds Farm Chicken Breast with Blistered Tomatoes, Sweet Onions and Olives
Tenderloin Chili Bar: Top your own chili with: Cheddar Cheese, Sour Cream, Onions, Fritos, and Honey Cornbread
Fall Vegetable Medley
Four Cheese Scalloped Potatoes
Roasted Vegetable Orzo Salad
Mixed Green Salad: Feta Cheese, Toasted Almonds, Blueberries, Herb Vinaigrette
Charcuterie and Local Cheese Board
Pumpkin Pie with Vanilla Bean Whipped Cream
Variety of Dessert Bars
All Game Long Popcorn with Flavorings
Halftime Fan Favorites
Nathan's All Beef Hot Dog
Johnsonville Bratwurst
Nacho Bar: Sour Cream, Pickled Jalapenos, Salsa, Chili and Cheese
The McDivitt Club Menu (available to McDivitt Club ticketholders)
Chicken Provencal: Red Birds Farm Chicken Breast with Blistered Tomatoes, Sweet Onions and Olives
Fall Vegetable Medley
Four Cheese Scalloped Potatoes
Mixed Green Salad: Feta Cheese, Toasted Almonds, Blueberries, Herb Vinaigrette
Tomato Florentine Soup
Pumpkin Pie with Vanilla Bean Whipped Cream
All Game Long Popcorn with Flavorings
Halftime Fan Favorites:
Nathan's All Beef Hot Dogs
Johnsonville Bratwurst
Nacho Bar: Sour Cream, Pickled Jalapenos, Salsa, Chili and Cheese
Founder's Club Menu (available to Founder's Club Ticketholders)
Johnsonville Bratwurst with Condiment Bar
Nathan's All Beef Hot Dog with Condiment Bar
Switchbacks Cheeseburger
Hot Ham and Cheese
Bento Box
Nacho Grande Bar: Chili, Cheese, Pickled Jalapenos, Salsa Rojo, Black Olives, Pico de Gallo, Guacamole and Sour Cream
Variety of Cookies, Brownies and Rice Crispy Treats
Hot Chocolate Bar with Accompaniments
Food & Beverage
White Claw Corner:
Crispy Chicken Sandwich: fried crispy chicken breast with shredded lettuce, tomato
Fries (can add Green Chili Cheese sauce)
Old school nachos: chips, cheese and jalapeno
Beverages: White Claw, Pikes Peak Brewery products, Voodoo Ranger IPA, Bristol, Modelo, Coors, Canned Wine, Pepsi products, bottled water
719 Munchies:
Pork Pizza Box Nachos: Tortilla Chips, Smoked Pork, Jalapeno Cheese Sauce, Diced Tomato, Jalapenos, Olives and Sour Cream
Chuckwagon Pizza Box Nachos: Tortilla Chips, Chuck Wagon Chili, Jalapeno Cheese Sauce, Diced Tomato, Black Olives, Pickled Jalapenos and Sour Cream
Taco Pizza Box Nachos: Fried Tortilla Strips, Seasoned Beef, Nacho Cheese, Diced Tomato, Shredded Lettuce, Black Olives, Pickled Jalapenos and Sour Cream
Old School Nachos: Tortilla Chips, Nacho Cheese and Jalapenos
Beverages: Pepsi Products, Bottled Water
Modelo Terrace:
Snacks: Popcorn, Red Vines, Sour Patch Kids, Mike n Ike
Beverages: Draft Modelo, Corona, 291 Cocktail, Full Spirits Bar, Pepsi Products, Bottled Water
Food & Beverage
Bristol Brewing:
Switchbacks Burger: all beef patty and American cheese on a burger bun
Chicken tenders: with BBQ sauce or ranch
Bratwurst with peppers and onions
Beverages: Bristol, Coors, Modelo, White Claw, Pepsi products, bottled water
VOODOO Lounge:
Cubano Sandwich: House Smoked Pork, Smoked Ham, Pickle Slices, Mustard, and Swiss Cheese
Switchbacks Burger: All Beef Patty, American Cheese on a Burger Bun
Old School Nachos: Chips, Cheese, and Jalapeno
Beverages: Voodoo, Coors, Modelo, Canned Wine, White Claw, Pepsi, Bottled Water
Coors Chill Zone:
Old School Nachos: Chips, Cheese and Jalapeno
Beverages: Draft Pikes Peak, Elephant Rock IPA, Devils Head Red, Blue Mesa Tropical Blonde, Ocean of Clouds Hazy IPA, Full Spirits Bar, Pepsi Products, Bottled Water